A Digital Media Translation Academy
At Dimetra Academy we believe in the value of translators in the globalised, multilingual and multicultural world we live in.
Translators make communication possible by navigating masterfully between different language systems and different cultures and bridging all the gaps that arise in the process.
Translators are key figures in a market which Common Sense Advisory (CSA) values at $40 billion and which is predicted to reach $45 billion by 2020.
Translators play an increasingly important role that is being underlined by many scholars, but also by industry stakeholders.
Translators face challenges. AI and automation, crowdsourcing and commoditizing forces beyond their control, such as distant procurement functions but also market forces squeezing prices down, naturally cause concern across all tiers of the language service market.
Dimetra Academy explores the challenges that freelance translators and even small and medium-sized LSPs face.
Dimetra Academy looks for answers and offers solutions to respond to the challenges that freelance translators and small and medium-sized LSPs face.
Dimetra Academy offers training to translation professionals in the form of bootcamps, crash courses and masterclasses in new trends in the translation industry often combining different disciplines such as machine learning and translation technology, digital marketing and multilingual content creation, growth hacking and multimedia translation.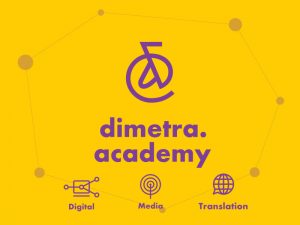 through bootcamps, crash courses and masterclasses
Hack your growth

Tap into your potential

Unleash your unique creative powers
Touch them if you want
Learn from the best
Dimetra proudly presents a team of professionals with extraordinary and proven experience in their field of expertise. They are happy to share their knowledge, review solutions and exchange perspectives with translators in the form of lectures, case-studies and hands-on projects